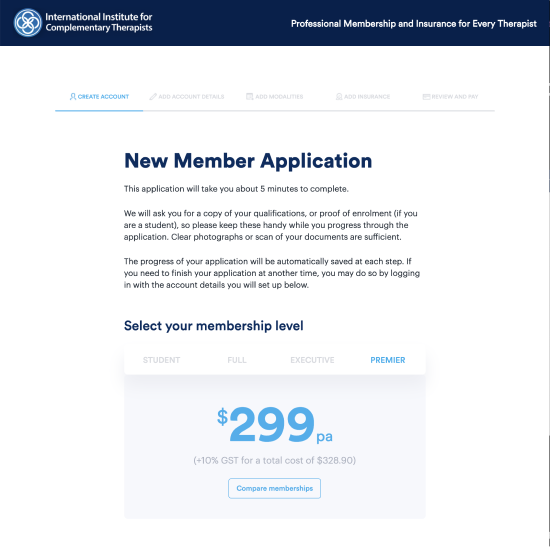 The Challenge!
The International Institute for Complementary Therapists (IICT) is an independent body providing membership and indemnity insurance for alternative therapists. IICT works towards legitimising alternative therapies by giving therapists an industry wide body to support them, thus removing the need to join a multitude of associations for every modality they practice.
IICT has big plans for the future, but had some big problems with their existing membership system that was holding them back. Through a history of staff and developer turnover, the system had become infuriating to maintain without the flexibility needed to support their growing needs.
Through patchwork problem solving, they had to use multiple systems to manage members consisting of five different instances of subscription and membership management systems. These were integrated to several websites based on different CMS platforms, integrated via different APIs to their CRM. And, the CRM was split into two different instances, one for the service desk and the other one for customer's data management.
All of those integrations resulted in many cases of broken or missing information, lack of trust with reporting and data manually consolidated from all the different systems, poor customer service due to the lack of tools, and no structured and standardised process for customer service.
This 'Frankenstein' system led to the business struggling to have concise and reliable information about its services and customer relationships, while their communication with current customers was poor, slow and a reason for ongoing complaints.
Phew! Thankfully, IICT made the decision to move their CRM and Support services to HubSpot. And then they came to us to clean it all up.
"We had a very clunky and 'un-integrated' membership platform that meant we needed most of our staff to perform daily admin tasks that they shouldn't have had to do. This also prevented them from spending their time on more value-adding tasks. We found it really difficult to find the right agency to not only unravel our current tech and systems stack, but also to map out a clear path forward.

Engaging.io spent a lot of unpaid time to help work this out for us and presented us a very clear path forward. Fast forward twelve months, and we now have a really well-built system, our admin headaches are gone, and we are able to focus on the business of growing our business, which we are successfully doing."
Lawrence Ellyard, IICT Group
What Did We Do?
They had already decided to onboard HubSpot for its excellent CRM and marketing automation tools, but needed it to talk to their membership system. The combination of existing systems was not up to the task, and after a lot of discussions and brainstorming, we landed on a bespoke membership portal and admin system that we would design and build, and integrate directly with HubSpot.
Through a busy year of hard work, we did just that. It was an incredibly large project to build a new membership system from scratch, and almost a quarter of the project was taken by migrating IICT's existing members from their old system to the new one. Database migration is one of the most difficult and important parts of a project like this one, and it's often underestimated. If members login to a new system to find their details are incorrect or they are getting charged more than they should, they will be very unhappy! But by spending the time to go through the process correctly, we managed to successfully migrate the disorganised database, refine it, and get all the correct data into the present-day membership portal.
This project resulted in a new subscription and management system for IICT, fully integrated with HubSpot, enabling the company to provide its more than 9,000 Australian customers first class customer service using a single integrated solution.
All the information about memberships and subscriptions, as well as particular demands required by customers from different areas, are centralized in one single platform composed of the subscription and membership system and the CRM.
The integration enabled IICT to gather its data and to be on top of its businesses at a higher level, as well as implementing performance monitoring, marketing strategies, automation of campaigns and communication workflows. They now also have a centralized, reliable, and simple ticketing system resulting in a remarkable improvement on their customers' experience.
What Happened Next?!
IICT experienced significant improvements almost immediately. Internally, they saw massive efficiency improvements, and they now have much more flexibility in managing their members.
They saw an increase of 6% of new businesses in the 7 months following the launch of the new membership system. This put them well on their way to their expected growth of over 10% in the first 12 months, due to the remarkable improvement on user-end interfaces.

They also saw a reduction on average response time from their customer service team from 3 days in August 2020 to 17 hours in March 2021 when the project was completed.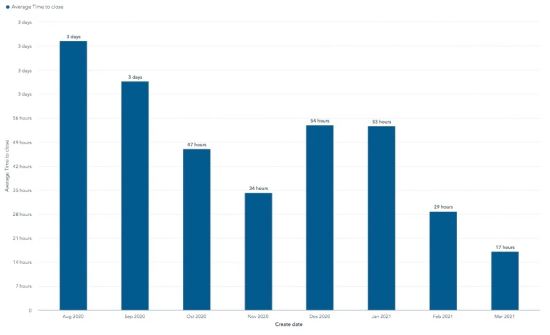 Their customer perception was definitely the most notable improvement in the short term. They continue to receive a multitude of good reviews on Google and Facebook every week, which they proudly display on their website. Additionally, IICT managed to run a customer satisfaction survey for the first time, and the results definitely speak for themselves (see image below).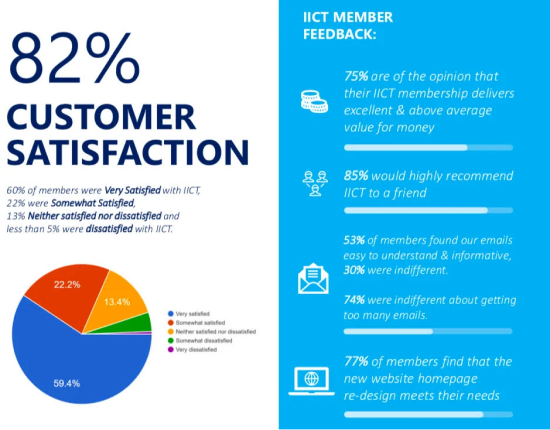 IICT's next steps towards growth are to expand their new system to their international customers and to develop a B2B integration, which will enable them to grow at an even faster pace.
The business is in a much better position for their international expansion. On top of that, their members now have access to better features and benefits, and a significantly improved user experience. It certainly was a win-win situation for everyone!
"If you're looking for a reliable, friendly and can-do solutions focussed agency that delivers what they say they will, then Engaging.io are your team. Our expectations were exceeded every time. I highly recommend them."
Lawrence Ellyard, IICT Group
Get in touch, we love to talk